October 15, 2014 | Community | Michelle Kokot
A Walk Through the Vines
It's early Friday evening and you're at a loss for ways to start the weekend. There is either too much going on or nothing at all in the Finger Lakes region. How to choose?
Well let us eliminate the guesswork. Treleaven by King Ferry Winery offers something distinctive, in addition to the most important element, an entertaining and informative experience. Led by vineyard staff member Molly Baillargeon, the King Ferry Vineyards are offering a guided tour through the vineyards and a grape and wine tasting of our award winning wines.
Simply put, it is a truly authentic winery experience.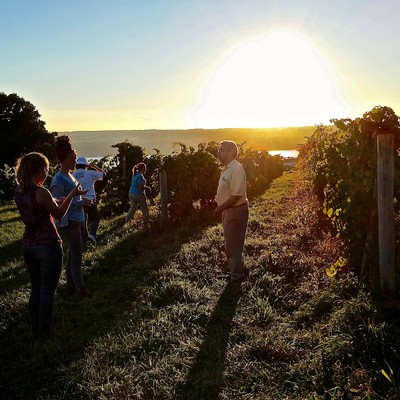 Our knowledgeable staff guides our guests through an hour-long in-depth winery tour, following the path of the grape in the vineyard to the finished wine—not only do you get a stroll among the vines, but you'll also see how we tend the vines as well as what the different varietals look like. At the completion of the tour, guests receive an educational tasting of our featured wines with grape of origin with one of our exceptional vineyard staff. Do all of this while overlooking the breathtaking views of Cayuga Lake in the fall.
"We've been pleasantly surprised at the interest people have taken in our vineyards so early on," Molly said. "We're excited to show people the beautiful place that we work, which is a hidden gem just down the road from the winery. Come see where the Treleaven grapes are grown!"
So if you've ever wanted to see what a working vineyard looks like, taste wine grapes or learn about Finger Lakes viticulture, this is the perfect opportunity for you. Start your weekend off with a stroll through the vineyards, delicious Treleaven wines, scrumptious Keeley's Cheese and gorgeous scenery.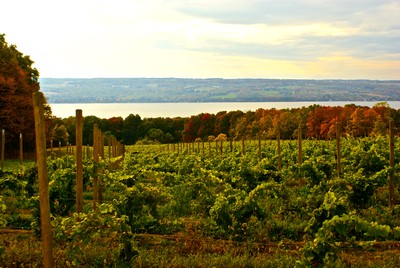 The next tour will run on Friday, October 17 at 5pm. To reserve a spot, please call 315.364.5100, email kingferryvineyards@gmail.com or click the link below by Noon on Friday, Oct. 17.
So join us this Friday, or like King Ferry Vineyards on Facebook to stay up-to-date with all the latest vineyard happenings.
Happy wine drinking,
Michelle Kokot
Marketing Manager
Comments