November 4, 2015 | Michelle Kokot
Donating to Fight Hunger in the Community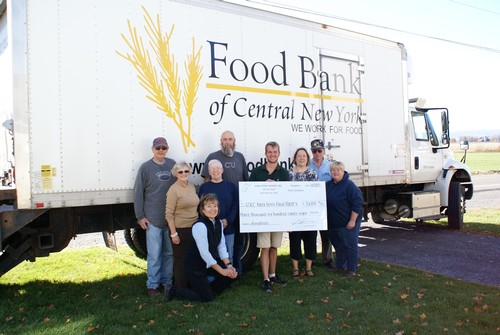 Treleaven by King Ferry Winery donated a portion of its tasting room sales to the King Ferry Food Pantry of Good Shepard Catholic Community in an effort to help fight hunger in the local area.
The King Ferry Food Pantry received a $3,688 donation at a check presentation at the food pantry yesterday morning during a food delivery from the Food Bank of CNY.
"It's been a long-standing Treleaven tradition to give to those in need throughout the year. The King Ferry Food Pantry has given the local community amazing support and we are delighted to return this support in a meaningful way by helping their efforts," said Director of Operations, Lev Saltonstall.
The winery generated the donation directly from tasting fees from January 2015 to October 2015, with $1 from each $4 fee going to the charity. Winery Co-owner Peter Saltonstall has been impressed with his customer's enthusiasm for the program - "The response by the public is phenomenal. It is important to remember that there are many people in great need of the basics that many of us take for granted. We have found our partnership with the local food pantry to be incredibly rewarding, and we hope to continue this program."
The winery's efforts will continue in the final months of 2015, and carry on into the following year.
The King Ferry Food Pantry serves anyone in need, and is designated by the Food Bank of CNY to serve those living in the Southern Cayuga School District. In addition to food, the pantry has free books, children's literacy programs, children's holiday events, used clothing/toys, food tastings and periodic blood pressure screenings.
To volunteer or donate to the pantry, contact Debbie Patrick at 315.497.2049 or Debbie@electricalinvestigation.com.
Comments
Commenting has been turned off.