June 1, 2015 | Michelle Kokot
Garden Concert Series

Celebrate summer and swing into the weekends with live music every Friday at Treleaven's Garden Concert Series! Beginning Friday, July 3, Treleaven will launch their annual music series which will feature performances from a rotating roster of musicians, kicking-off with the Diana Jacobs Band, best known for their powerful vocals, tasty guitar sounds and awesome rhythm section.
While enjoying mouth-watering Southern-flare dinner specialties prepared by Executive Chef Rupert Robbins from Aurora-based catering company, Skillet & Embers, along with Treleaven wines and craft beer from Cortland Beer Company, guests can watch and listen to live music each Friday from 6:00PM - 8:00PM with no cover-charge. Entertainment will take place in the outback under the stars, along with lawn games, and picnic tables and Adirondack chairs will be available on first-come, first-serve basis. You may bring your own blankets and chairs.
The series presents a variety of music to satisfy all tastes - from classic rock to bluegrass to swing to acoustic. See below for a complete list of musicians.
On select Friday evenings, Wine & Design Ithaca will be joining us to take our guests through an artist-led activity where you will paint a masterpiece while sipping on wine or craft beer! All materials and instruction are included in one low price. See below for Wine & Design dates and pricing.
July 3: $40/person - Patriotic barn star
July 31: $35/person - Canvas painting TBD
August 28: $35/person - Canvas painting TBD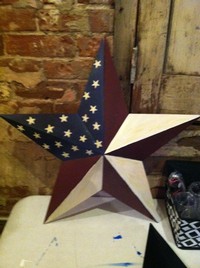 Barn star to be painted on July 3
With the purchase of a ticket, receive 10% off your first bottle of Treleaven wine. There is limited seating for each date so advanced reservations required. To reserve your ticket for the painting portion, call the winery at 315.364.5100 or head to www.wineandesign.com/ithaca to order online. If you have any questions or concerns contact Michelle Kokot, Treleaven Marketing Manager at marketing@treleavenwines.com.
TICKETS ONLY REQUIRED FOR SCHEDULED PAINTING SESSIONS. ADMISSION TO THE WINERY IS FREE!
In case of bad weather the event will be moved to the barrel room. Please call the winery at 315.364.5100 or check our Facebook page for more information and last minute announcements.
Comments
Commenting has been turned off.