June 7, 2012 |
King Ferry Farmer's Market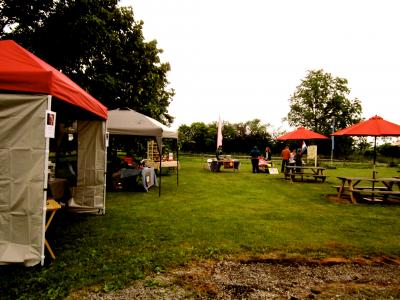 For decades the Ithaca Farmer's Market has been an attraction for locals and visitors alike. In the last several years smaller markets have been springing up in Ithaca's surrounding area. One such market has just begun right here at King Ferry Winery. Every first and third Saturday from 10:00-1:00 through October the vendors set up their goods in the front lawn of the winery. Just the allure of just the words fresh and local are enough to draw interest from both community members and out-of-towners.
Six local vendors displayed their unique treats in the unexpected gloom last Saturday morning including local cheese, organic produce, photographs, woodcrafts, silver jewelry and baked goods. Even more vendors will join us next market (the 16th of June). It was our first market day and customers arrived fifteen minutes early to check out the booths! One vacationing family occupied their underage son with one of Man in the Moon's delicious soft half moon cookies while they leisurely tasted wine. Whether vacationing or just coming to pick up a favorite bottle of wine for dinner the market has something to offer. Check out our facebook for more photographs or better yet come to our next market on the 16th to see for your self!
Stay tuned for more information about the individual vendors!
Comments
Commenting has been turned off.