August 16, 2014 | Travis Kokx
Pete's Ithaca Farmers' Market Memories
Ithaca Farmers' Market Memories
From King Ferry Winery's owner Pete Saltonstall
Pete and Tacie Saltonstall have seen a lot in 30 years of wine making! Pete has written a fun, short piece about some of his memories working at the Ithaca Farmers Market. Cheers!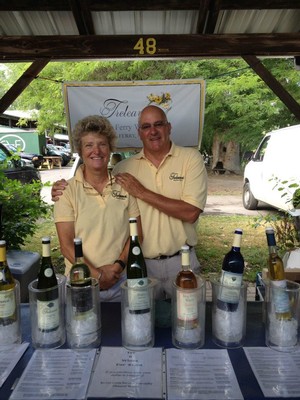 This past Sunday after setting up our booth at the Ithaca Farmers Market, I looked across the aisle and noticed that my neighbors that sell Japanese food had four generations of women at their booth. It started me thinking about how long we both had been at Market and how the market has shaped my family and many others at market.
We started market 23 yrs ago. Believe me it was much harder then when our kids were small. Tacie and I would alternate weekends at market and many times one or more kids would come and work the market with us. While they were not allowed by law to touch the bottles of wine, they were allowed to help sell the wine and run the cash register. Not realizing it at the time, this interaction with the public at an early age helped all three of our kids develop good people skills at a very early age. Public speaking has never been a big challenge for any of them. While the majority of the people attending market are friendly and nice to deal with my kids also learned how to deal with unpleasant people also. This has helped them more than they might know.
Getting back to our neighbors, one of my favorite memories of them was that of one of the daughters playing violin at market. The young woman that I saw this Sunday was once a very cute 8 yr old with a large violin and a case on the floor beside her with a few dollar bills in it. I will never forget my 8 yr old son's reaction as he watched her play for approx. 1hr then picking up her case and walking away. She had taken in approx. $ 30.- in that hour. As she walked away my son asked me why he wasn't making more money working at market. I told him that he was welcome to start taking violin lessons any time he wanted. We both laughed and still talk about that time.
Both Tacie and I still enjoy working market. Having grown up in Ithaca, we see many friends and regulars at market each weekend. During those 23 yrs we have seen the market grow and change and develop into a farmers market known and admired around the world. Perhaps one of the best kept secrets of the vendors at market is that we love the people watching from our side of the booth. As a friend once told me, "the money's good and the show is great."
Cheers
Pete Saltonstall
Co-Owner of King Ferry Winery


Comments