July 12, 2012 |
Spotlight on King Ferry Farmers' Market Vendors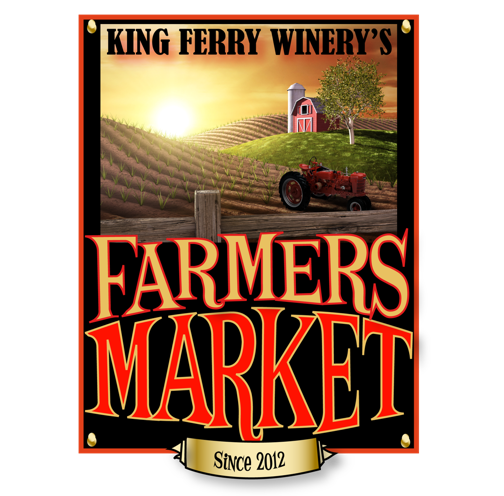 As promised, I have asked our Farmers' Market vendors a little about themselves and their products. All are local and invested in providing the community and beyond with carefully grown, produced or crafted goods that are area specific. Each booth you visit will contain a Finger Lakes signature taste, smell or sight. From beautiful Cauyga Lake glass to farm raised lavender to creamy cow's milk cheeses there are pleasures for every sense at the King Ferry Farmers' Market!
Located at the intersection of State Rt. 90 and 34B in King Ferry, this little bakery and cafe provides big flavor to our community offering "a taste of hand baked goodness." Owners Annie Zygarowicz and Anastasia Zygarowicz-Bartlet bake amazing cookies and I can attest to the smooth, rich deliciousness of their cheesecakes! Baking and food preparation of all of their treats and meals is done from scratch right at the Man in the Moon Bake Shoppe and Café by local certified bakers The shoppe is only a few minute drive from our winery. TJ Zygarowicz manages the booth at the farmer's market where he sells scones, muffins, cupcakes, pies, turnovers and cookies. Imagine a glass of the new Dry Rose with a chocolate chip cookie!
Annie says, "Our mission is to support and promote our community's farmers and local product producers." She also emphasizes that they aim to satisfy all tastes by offering a large variety of items.
For more info check out:
http://www.maninthemooncheesecake.com/Welcome.html
Marjorie Pryse runs the Pembroke Harvest booth where she offers honey, produce, and herbs. All produce and herbs are grown in her bee-pollinated garden in Lansing, NY. She does not use chemical fertilizers and pesticides. About herself Marjorie says: "I am an educator and enjoy talking to the public about honey bees." When you come in you can chat with her about honeybees and the process of producing honey. That is, of course, with a glass of wine in hand and a Man in the Moon treat in the other hand. Dr. Pryse is a visiting professor at Cornell University and a member of the Finger Lakes Beekeepers Club. Pembroke Honey is also sold at the People's Market in Lansing.

Keeley O'Brien produces handmade farmstead raw cow's milk cheeses. Her cows are grazing Jersey and Holsteins. Across the Pond is a semi-soft washed rind cheese that is described as, "luscious, buttery, earthy and complex." The cheese is based on cheese that she learned to make while interning on a farm in Ireland.
McGarr Farms, where the cheese is made, can be seen from our tasting room! If you can't make it to the market but love cheese as much as I do stop by the farm to buy, she is part of the new Cayuga Lake Cheese Trail. We also keep our fridge stocked with Across the Pond for sale!
Meg McGarr, Keeley's sister, is running the booth at the market where she offers samples for tasting.
Keeley says: "Our cheeses are a great match for a number of Treleaven wines; come find your favorite pairing while at the winery!"
For more info check out: http://www.keeleyscheeseco.com/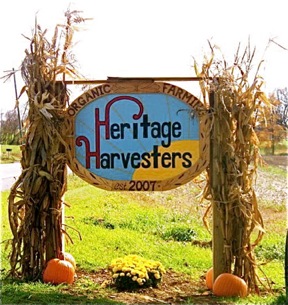 Heritage Harvesters is a Certified Organic Farm owned and run by Nancy and John Shaw. Their seasonal produce is NOFA-BY Certified Organic! The grow tomatos, cucumbers, lettuces, radishes, kale, swiss chard, beets, turnips, sweet corn, green and yellow beans and more. They also make flower from organic grains from which they make pasta! Their market booth also may have organic popcorn and fresh certified organic chicken eggs.
Nancy says: "Everything we bring to Market is picked fresh daily from our NOFA-NY Certified local fields and we process everything ourselves to a completed product. Our products never leave our hands until the customer buys it from us. We want people to be able to have a choice to eat healthy with no harmful sprays/chemicals, manures and no GMO seeds ever used on any of our crops. We also believe in selling our organic products at affordable prices so that everyone can afford to eat healthy."
Heritage Harvesters has been given the Sustainability Award through Tompkins County for our Local Farming Practices. They have also been recognized by Pride Of New York and are involved in GAPS Program (Good Agriculture Practices). Nancy and John as of 2011 work full time on the farm.
They also run an organic produce stand that starts up on the first or second weekend in July and is open 24 hours, 7 days a week as a convenient self-serve with a payment cash box attached. It is located right around the corner from our winery on Rt. 34B.
Nancy invites all: "Come Watch Us Grow!"
Visit Nancy and John at:
https://www.facebook.com/pages/Heritage-Harvesters/164662383556915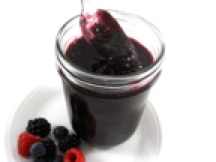 The Merrifield Products booth is manned by Craig Kukuk. His booth is named after the builders of his cobblestone home. The Merrifield's were prominent Quaker farmers who built the house in 1840. They were also involved in the Underground Railroad.
Craig will be selling homemade jams made from his own organically grown berries including raspberry, blueberry, and blackberry, as well as current, peach, apple butter, pumpkin butter. He learned to make jam from his grandmother when he was a boy. One universal rule of food that I have learned is that if it's grandma's recipe it's guaranteed delicious!
Craig is a man of many trades; he also makes soap with an olive oil base that he is selling at the market. He makes shea butter, palm oil, coconut oil, and other scented oil soaps. He says "I promise you'll look ten minutes younger or your money back."
There's more! He will also be selling herbs and spices for cooking that were grown in his own fairly large and exotic garden.
Lastly, he will be selling artwork, mandalas done with colored pencil.
Craig says: "I do everything from the shrine to the bizarre. I am looking so forward to being a part of the community as I am a recent transplant from Michigan."

Purple Dog Lavender Farm is located on Rt. 34B in King Ferry only a few miles from the winery. Sheri, who will sell an array of local sustainably grown and produced lavender products, runs the booth.
Lavender is a very versatile herb that not only looks beautiful but has many practical benefits too! It can be used for anxiety, depression, mental exhaustion, insomnia, scrapes and wounds, digestive problems, headaches, skin problems, to treat exhaustion, heat exposure, fevers, aches and pains, over-exertion, jet lag, rashes, sprains, sunburn, sunstroke, bruises and burns. It is also a disinfectant, insect repellant, an antiseptic, natural antibiotic, sedative and detoxifier.
Do a sniff test and see if you can pick up the lavender notes in the wonderful bouquet of our 2010 Gewurztraminer!
Check out this interesting article on Lavender: http://tmeetz.hubpages.com/hub/lavender
And for more information on Purple Dog Farm check out:
http://www.purpledoglavender.com/Home_Page.html
http://purpledoglavender.blogspot.com/
Beyond farm and garden wonders, King Ferry and the surrounding area is home to numerous talented artists and artisans who use local natural treasures for materials and inspiration!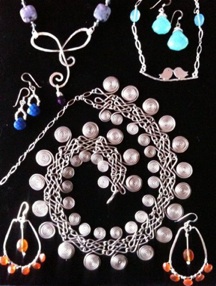 Swirling Sterling is run by handcrafter Sara Beth who makes all of her pieces by hand and designs them all herself! Sara is a resident of neighboring Aurora, NY. She has been working in silver crafting for twenty years. Regarding her process, she uses sterling silver wire to form the spirals by hand, then solders them with an oxy-acetylene torch and a soldering brick. She then beats them flat with a hammer and a steel block, sands them by hand and polishes them with a buffing wheel. The only pieces not made by Sara are the toggle clasps on the necklaces. The silver plate moon face earrings are all hand cut with a jeweler's saw from her own design. They are then sanded and polished to a high finish. Nothing is dapped from a pre-made dapping tool or cast! She says: "You will not see yourself coming down the street in the same pair of earrings or the same pendant...everything is pretty much individual!"
Spirals are often seen as whimsical or even disorienting but Sara has a much more sophisticated and beautiful understanding of their significance. She says: "Why spirals? Because they remind me that I have known depression and hardship in my life and I always see spirals as a representation of the way OUT of a tight spot rather than falling inward into despair and no escape! They are a symbol of positive change and upward movement in life! If you focus on the center of a spiral and move outward with your eyes, you will always end up seeing the bigger picture in life; the big mosaic, instead of individual tiles! Just my take!"
For a preview of her work check out:
https://www.facebook.com/swirlingsterlingbysarah
http://swirlingsterling.blogspot.com/
http://www.etsy.com/shop/SwirlingSterling69
Carol LaBorie Photography

Carol sells framed archival quality photographs, archival quality matted ready-to-frame photographs and note cards. She is from Ithaca NY. She has a keen eye for detail that is evident in the intricacy of the subjects that she photographs.
Biography Statement:
"Carol LaBorie is a photographer who has lived in the Ithaca area since 1973. She loves the natural beauty of our region, especially the flora and fauna of the aquatic environment. Some of her favorite subjects are the frogs that reside in her backyard pond. Carol's sense of humor is evident in many of her photographs in the way she captures the personality of the frogs - yes, they do have personalities – and in the way insects seem to always get into the frame just as she shoots close-ups of flowers. She focuses on microcosms and the hidden places that most of us usually miss, like the tiny peeper frog hidden in the falling leaves, raindrops on the pond, and interesting light and textures. You may be surprised at what you see when you view her work."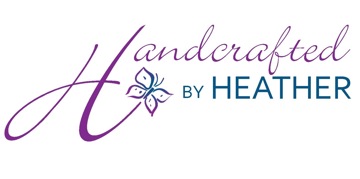 Heather Renee` Alexander, artist and booth manager, creates jewelry, wine accessories, wedding accessories, and other household items that are unique and fun! Heather is from near by Canandaigua, NY, where she creates her work.
Heather utilizes her natural environment in her work. She uses genuine Finger Lakes glass that's found on the shores of Cayuga Lake, and other Finger Lakes. She also uses semi-precious gemstones, fine metals, and Swarovski Crystals.
She wants her customer to know: "I always welcome special orders, so if you don't find EXACTLY what you're looking for at the Farmers Market we can talk about making you something unique and fabulous."
http://www.etsy.com/shop/HCbyHeatherJewelry
http://www.facebook.com/HandcraftedbyHeather
http://handcraftedbyheather.wordpress.com/
Dan Tracy Designs LLC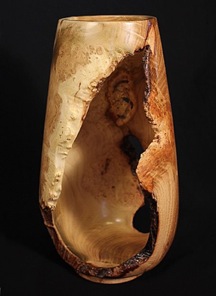 Dan Tracy is a lifetime resident of Central NY where he has been involved in wood working basically his whole life! He also enjoys canoeing on local lakes and waterways and has made his own cedar strip canoes! He utilizes the natural beauty of the grain and even the disfigurement of the wood to pattern his absolutely beautiful pieces.
I will let him speak for himself:
"The unexpected beauty that is uncovered from within the pieces of wood brings me a great sense of wonder and satisfaction. As the process of turning the wood brings forth the unknown shape and beauty to be found. It is as if the form was always there within the wood, and I just needed to release it.
I strive to take pieces of wood from nature and unveil the beauty that lies within. These creations take the form of sculptures, goblets, bowls, plates, boxes and vases.
I work with local woodsmen to find wood that is both unique and renewable. Currently I am creating a series using Black Locust burl. This is both rewarding and difficult because of the nature of the medium.
I create one of a kind pieces of art. I have shown in many festivals and have had the joy of being commissioned to create special pieces for customers."
http://www.dantracydesigns.com/
I sincerely hope that you can make it next time to see, taste, and smell all of the fabulous products offered at the King Ferry Farmers' Market!
Comments
Commenting has been turned off.