January 31, 2013 |
Wine of the Month: Meritage
INTRODUCING FEATURED WINE OF THE MONTH:
February
MERITAGE 2007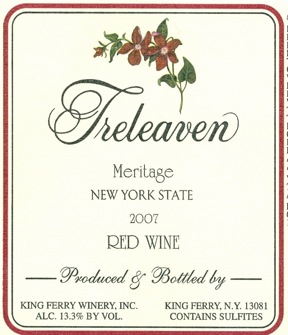 Many of you are likely familiar with "May in Riesling Month" in the Finger Lakes. Around the lakes wineries honor the most renowned FL varietal with discounts, food pairings and special events. As the FL wine industry ages, more and more of our cooler climate varietals are gaining positive recognition. So we thought, why limit a good thing? Starting this year we have selected a featured wine for each month! Visitors to King Ferry Winery will receive a free tasting of the featured wine plus discounts on purchases of that wine (discounts will also extend to shipping orders).
The featured wine of February 2013 is our Bordeaux blend, Meritage. The word Meritage was coined in the 1980s by a group of American winemakers who wanted to create a new world name for traditional "noble" Bordeaux varietal blends. "Meritage" is a combination of the words "merit" and "heritage" indicating both the high quality and long lived tradition of Bordeaux blends. Although it is tempting to pronounce Meritage with a French pronunciation, it is correctly pronounced rhyming with "heritage." In order to put "Meritage" on the label, the wine must contain at least two of the possible six red or three white Bordeaux varietals. The winery must also be a member of the Meritage Alliance. The alliance gives winemakers the opportunity to showcase their skill at blending under a title that consumers associate with high quality.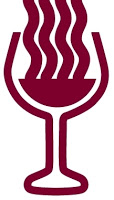 The growing season in 2007 was hot and dry, ideal conditions for red grapes. Kim, our wholesale representative, remembers that at the time it was the nicest and darkest Cabernet Franc fruit she had seen. Similarly, Wine Spectator's Mitch Frank wrote in 07': "Upstate in the Finger Lakes, winter and spring passed by frost-free, giving producers solid yields after several years with few grapes on the vines. The summer was warm and sunny—hot and dry, in fact—which was good for the reds and a relief after a very cloudy, wet 2006. Several winemakers are raving about the dark colors in their Pinot Noir and Cabernet Franc." The remaining varietals, Merlot and Cabernet Sauvignon used in our Meritage were purchased from Sawmill Creek Vineyards in Hector, NY and Sam McCullough's Vineyard in Long Island. Long Island has a slightly longer growing season, which gives the grapes more time to ripen. Since the weather was hot and dry the conditions were even more ideal for red varietals causing the grapes to produce higher sugar, flavor concentration and to quote wine maker Lindsay "beautiful tannin development."
Since the release of this wine about five years ago it has undergone a mellowing process in the bottle that is typically called ageing. In young red wine the tannin often has an almost bitter quality, which some wine lovers like and others do not. One of the characteristics of an aged wine is that the tannin and oak mellow and become more mild and smooth without losing complexity of flavor. Flavors in aged blends also become more married so that it is not as easy to pick out characteristics of a particular grape. Instead, the flavor is unified and complex. This Meritage maintained a lot of dark fruit like black cherry and black berry. Our descriptor reads: "Beautifully integrated tannin and smoky oak are some of the wonderful characteristics of this nicely aged, award winning Bordeaux blend. Subtle fruit and spice add to the complexity: black cherry, clove and black pepper. A bold finish, reminiscent of black coffee, rounds out each sip. A unique blend of 61% Cab Franc, 28% Merlot & 11% Cab Sauvignon."
We recommend the 07' Meritage with red meats and chocolates, and is one of our favorite pairings with a wide variety of our Finger Lakes' artisanal cheeses. Also try it with these tested and approved recipes:

KING FERRY WINERY
Gingersnap and Chipotle Truffles
(makes 12 large or 24 small)
8 ounces semi-sweet chocolate (1 cup chocolate chips)
2 Tblsp. heavy cream
1 tsp. chipotle powder
4 ounces unsalted butter, softened
1 Tblsp. pure vanilla extract
¾ cup pulverized gingersnaps (food processor works great to pulverize)
cocoa for dusting
Melt the chocolate & cream until smooth (you can do this in a microwave – 30 seconds at a time, stirring in between, or use a double boiler), then stir in the butter by tablespoon-sized pieces, then add the chipotle and the vanilla, and finally stir in the pulverized cookies. Set the bowl or pan containing the mixture in the refrigerator to cool, stirring occasionally, until chilled and fairly firm – about 3 hours. Dig into the mixture with a teaspoon, gather up a gob, and form into a rough rocklike truffle shape. Roll it in the cocoa powder and drop it into a paper candy cup. Refrigerate in an airtight container, where they will keep several weeks, or you may freeze them.
KING FERRY WINERY
Beef Medallions with Wine Sauce
1 1/2-pounds of beef tenderloin
4 tablespoons (1/2 stick) butter
3 large garlic cloves, chopped
3 large shallots, chopped
1 bay leaf
1 teaspoon dried thyme
1 tablespoon all purpose flour
2 cups canned beef broth
2 cups Treleaven Meritage
Cut beef crosswise into 12 equal rounds. Pound beef rounds to flatten to 1/4-inch-thick medallions. Season with salt and pepper.
Melt 2 tablespoons butter in heavy large skillet over medium-high heat. Working in batches, sauté beef in skillet until brown on outside but still pink in center, about 2 minutes per side. Transfer beef to plate. Add remaining butter to same skillet. Add garlic, shallots & thyme; sauté until tender, about 3 minutes. Add flour; stir 1 minute. Add broth, wine, and bay leaf. Boil until sauce thickens and is reduced to 1 1/4 cups, stirring occasionally, about 12 minutes. Remove bay leaf and discard. Return beef and any juices to sauce in skillet; heat through, about 1 minute. Transfer beef to plates, Spoon sauce over top.
Learn more about the Meritage Alliance here: http://www.meritagealliance.com/
Comments
Commenting has been turned off.