It's early Friday evening and you're at a loss for ways to start the weekend. There is either too much going on or nothing at all in the Finger Lakes region. How to choose?
Well let us eliminate the guesswork. Treleaven by King Ferry Winery offers something distinctive, in addition to the most important element, an entertaining and informative experience. Led by vineyard staff member Molly Baillargeon, the King Ferry Vineyards are offering a guided tour through the vineyards and a grape and wine tasting of our award winning wines.
Simply put, it is a truly authentic winery experience.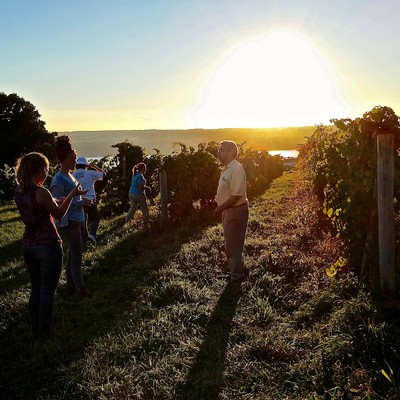 Our knowledgeable staff guides our guests through an hour-long in-depth winery tour, following the path of the grape in the vineyard to the finished wine—not only do you get a stroll among the vines, but you'll also see how we tend the vines as well as what the different varietals look like. At the completion of the tour, guests receive an educational tasting of our featured wines with grape of origin with one of our exceptional vineyard staff. Do all of this while overlooking the breathtaking views of Cayuga Lake in the fall.
"We've been pleasantly surprised at the interest people have taken in our vineyards so early on," Molly said. "We're excited to show people the beautiful place that we work, which is a hidden gem just down the road from the winery. Come see where the Treleaven grapes are grown!"
So if you've ever wanted to see what a working vineyard looks like, taste wine grapes or learn about Finger Lakes viticulture, this is the perfect opportunity for you. Start your weekend off with a stroll through the vineyards, delicious Treleaven wines, scrumptious Keeley's Cheese and gorgeous scenery.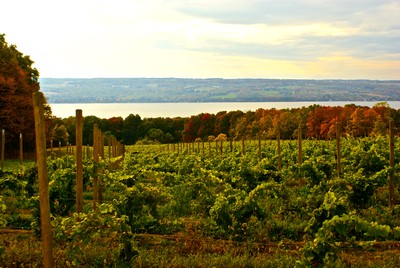 The next tour will run on Friday, October 17 at 5pm. To reserve a spot, please call 315.364.5100, email kingferryvineyards@gmail.com or click the link below by Noon on Friday, Oct. 17.
So join us this Friday, or like King Ferry Vineyards on Facebook to stay up-to-date with all the latest vineyard happenings.
Happy wine drinking,
Michelle Kokot
Marketing Manager
https://www.facebook.com/pages/Ride-for-Heart-Health-Finger-Lakes/162006500636798?fref=ts\
Our owner Peter Saltonstall talks about why he and a few caring neighbors got together to start the Ride for Heart Health Fundraiser. All proceeds from the bike-a-thon go to the Cayuga Heart Institute.
To Register for the Ride Click Here
For more information on the ride Click Here
For Information the festivities to follow on our Summer Open House Click Here
Homes for Kestrels Several years ago Tacie and I noticed that we had kestrels patrolling the vineyard near our house. These birds are also known as sparrow hawks but are actually small falcons. We were thrilled to observe that when these beautiful little raptors were around, all of the birds that like to eat our ripening grapes made a hasty retreat from the vineyard. After years of using propane cannons, synthetic noise makers, balloons and aluminum foil we found that we had the best bird control Mother Nature could provide. We now have two pairs of kestrels nesting near our vineyard and have put up nesting boxes to encourage others to make their home at King Ferry Vineyards. Our neighbors hated all of the noise makers and are as excited as we are to have these wonderful new additions to the community.
Support for School Garden Projects in NYC
For the past three years we have been selling our wines in NYC at the open air Greenmarkets that are managed by GrowNYC. If you visit grownyc.org you will see that they are much more than just these markets. One of the areas that they are very involved with is making people aware of where their food comes from. To this end they support school garden projects in all five boroughs. This spring after talking with one of our market managers we decided to donate a ton of vineyard compost to a school garden project at PS 226 in the Bronx. My son Lev and I drove this truckload to the school on a beautiful spring day and took turns shoveling it off the truck. The guidance counselor was so happy to have this "Black Gold" and sent us pictures of the kids and their families planting their garden. The kids were especially excited to hear that there was horse manure mixed in with the compost. They loved handling the "horse poop".
Support for Food Bank of Central New York
One of the things that my staff and I are very proud of is our involvement with the Food Bank of Central New York. This year we will donate approx $ 6,000 to a special grant program that will allow our dollars to buy produce when it becomes available. We set up a program where $1 of our $3 tasting fee will be donated to this cause. The response by the public was phenomenal. While the economy recovers it is important to remember that there are many people in great need of the basics that many of us take for granted. We hope to continue this program and have some interesting plans for our future participation that we will share with our customers soon.